Your Veterinarian in Boulder Creek, CA
Boulder Creek Veterinary Clinic is proud to serve the San Lorenzo Valley, CA, area for everything pet related.
Comprehensive Veterinary Care for Your Pet
At Boulder Creek Veterinary Clinic, we provide a comprehensive range of veterinary services and ensure your pets get the quality care they deserve.
Pet Wellness Awaits You
Your pet journey to wellness begins here.
Welcome to Boulder Creek
Veterinary Clinic
Boulder Creek Veterinary Clinic is a full-service animal hospital equipped with state-of-the-art digital radiology equipment, modern surgical suites, hospital treatment wards, specialized dental equipment, and bathing facilities. We are also fully staffed and equipped for emergency veterinary services.
Comprehensive Veterinary Care for Your Pets
At Boulder Creek Veterinary Clinic, we aim to keep your pets as healthy as possible. We firmly believe in treating the whole animal, offering all your diagnostic and therapeutic options under one roof. Our commitment is to allow you and your pet to achieve the best quality of life.
Pet Emergency?
Read no further and call us right away!
If you live in Boulder Creek or the surrounding area in CA, then you have picked the perfect site to find a veterinarian. Nestled in the beautiful redwoods of the San Lorenzo Valley in Central California, the Boulder Creek Veterinary Clinic is here for your pet!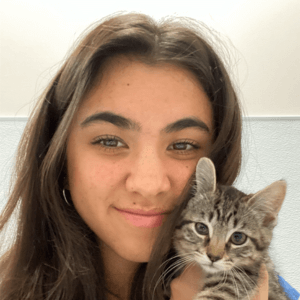 Meet Our Veterinary Team
At Boulder Creek Veterinary Clinic, our veterinary staff is dedicated to bringing the best veterinary care to your pet while working within your budget. Our doctors are graduates of top accredited veterinary colleges and regularly attend continuing education seminars in order to provide our patients with the most current Western therapy and holistic alternatives.
Our support staff complement the doctors' training by adding their knowledge and compassionate care to our patients. We treat your pets like the valued family members they are.
We Love Our Clients & Patients!
We love everyone at the Boulder Creek Veterinary Clinic, but Dr. Garrity is our absolute favorite! She has outstanding knowledge, patience and compassion for the animals. It's amazing! And she also holds that space for the human(s) that brought them in.
Michelle Getz
The entire staff is amazing, but my main reason for the "10/10" rating is Dr. Kathie. She is kind, caring, smart, and deliberate with her practice AND she has excellent communication skills with the pets' parents too! Won't take my "kids" anywhere else! 🙂
Kat Wilson
Kathy Gerrity is a fantastic care-giver: knowledgeable, efficient, compassionate, articulate, and attentive to all aspects of our cat's health and well-being. She is supported by an excellent staff (Angie, Shelly, Jenn, Bella, are all great) who do everything possible to keep our pet healthy and happy.
Mark Traugott