Get to know our veterinary team
We are solely dedicated to your pet's care. We look forward to getting to know you, and we hope you'll take the time to scroll down and get to know us.
Kathie Gerrity
D.V.M.
Dr. Gerrity is a 1979 graduate of the University of Davis School of Veterinary Medicine. She did a 14-month internship at Santa Cruz Veterinary Hospital, and spent 5 years as Chief of Staff at the United Emergency Animal Clinic in Campbell before purchasing the Boulder Creek Veterinary Clinic in 1985. Dr. Gerrity's areas of special interest and expertise are dermatology and trauma medicine, supported by years of experience and intensive continuing education. Voted one of America's Top Veterinarians in 2007, she divides her free time between her family: her 6 dogs, 5 cats. She also enjoys water-skiing and donating her services to an animal sanctuary in Rosarito, Mexico.
Angie Smith
R.V.T
Angie was born and raised in the San Lorenzo Valley, and now resides in Boulder Creek. She joined the Boulder Creek Veterinary Clinic in 2001 and currently works full-time. She is in charge of ordering and managing hospital supplies, in addition to her regular nursing responsibilities. Angie is a board-certified Registered Veterinary Technician by the State of California. She has also completed several continuing education seminars and courses in various subjects in veterinary medicine. When Angie is not at the clinic, she enjoys photography, billiards, and spending time outdoors with her family.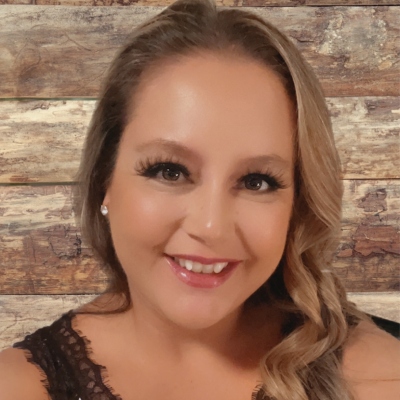 Michele Farwell
Remote Practice Manager
Michele has been working in the veterinary field since 2002. She started her career at the SPCA in Sacramento and then found her way to us in 2003. She has worked with us since then. She enjoys her time with her 3 children and her husband as well as her 2 Sharpei's Dani & Arya. She currently works remotely for us from New Mexico and does a lot of things behind the scenes. You will see her pop in the clinic from time to time.
Michele "Shelley" Miller
Veterinary Assistant / Receptionist
Shelli has been with Boulder Creek Veterinary Clinic for over 10 years! She is an Iowa native who worked on a dairy farm for 7 years and had the unique opportunity to deliver calves! Shelli attended Centre College in Kentucky to obtain a bachelor's degree in German & Psychology. In addition to those degrees she also studied at Iowa State to obtain her bachelor's in Animal Science & Dairy Science degrees. Shelli brings a vast array of knowledge and has a natural bond with the feline and small animal patients. In her off time, Shelli enjoys the simple pleasures that California has to offer, gardening, hiking and learning to play the ukulele. She also has 5 kitties to keep her busy, Jiri, Dasa, Mila, Fritz and Wilbur, and who could forget Gladys the hamster!
Jenn Martindale
Veterinary Assistant / Receptionist
My name is Jennifer Martindale. I'm a Veterinary Assistant and I've worked at the Boulder Creek Vet for 8 years. My favorite part of the job is caring for hospitalized animals, placing IV catheters, running bloodwork, taking X-rays, and helping ease clients stress/worry when they have a sick pet. I chose this profession because as a young girl I've always been fascinated with the medical field and I combined that love with my love of animals. My hobbies when I'm not at work are hiking with my dogs Phoenix and Skylar and my son Jeremy. Searching for mushrooms in the winter and collecting gemstones.
Joey & Marco Gerrity
Vet Assistant/Kennel Assistant/Handymen
Bio Coming Soon
Shaylah Manchester
Kennel Assistant
My name is Shaylah, I work in kennels. I have been working here for about 2 1/2 years and I absolutely love working will all the animals! I love this job because I am animal obsessed, I love seeing so many furry paws and enjoy helping any animal in need. Other than work I enjoy spending time with my kids and going on nature walks with them and our dog Zeus. He's our very handsome German short-haired pointer / Pitbull mix, The Best Dog Ever!! Other than Zeus we also have chickens, ducks, a goose, frogs, and a bunny.
Millie Ngo
Veterinary Assistant
Millie started out with us as a volunteer shadowing Dr. Gerrity in the exam rooms and has now come on staff one of our amazing Kennel Assistants & Veterinary Assistant! She takes care of the boarding animals. She has interest in possibly being a veterinarian herself one day! She has been with us for about 2 years. One of Millie's favorite parts of her job is watching the animals' health improve overtime! 'I have a deep passion for animals and their health, I also love being hands-on with the animals and interacting with the community.'In her spare time her hobbies are taking her pups to the beach to run and play in the sand! I also enjoy making jewelry and gardening!'
Fall 2022 update-Millie has now gone off to college and you will see her intermittently when she is home on vacations. 
Amber Mitchell
Veterinary Assistant
My name is Amber and I am a Veterinary Assistant / Kennel Assistant. I have been here for about a year and a half. My favorite part of the job is working with the animals and the Team. Everyone has been super welcoming and patient with me while I learn the ropes (and pronunciations of medications haha.) To work in the Veterinary field had always felt like a far-away childhood dream that was unrealistic to pursue. The pandemic gave me a unique opportunity to hit the reset button on my life after dedicating my whole adult life to business management. Now that I'm here I feel so happy and fulfilled, like what I'm doing really does make a difference. Even on the tough days I'm proud to be here. I love going on hikes, hopping into the river on a hot day, long walks on empty beaches in the middle of winter, and making art until my hands are stiff. I have 5 kitties who are just the center of my whole world. Especially my best friend Wiley, a crabby old flame point I've had since the precious age of eleven, who continues to teach me how to be a better person every day.
Bella Martin
Veterinary Assistant
My name is Bella. I started working at this wonderful clinic in February of 2022 behind the scenes as a kennel assistant, which I absolutely loved (and still do). I was eventually inspired by all my coworkers' hard work to switch positions and learn an entirely new set of skills as a veterinary assistant. I am in school to become a certified veterinary technician and further my knowledge in this field. I've always had a passion for animals but my interest grew while accompanying my grandma to her various foster/ rescue pups' vet visits and watching them become healthy and brave enough to find a loving home. As for what I do in my free time- I have 4 family dogs, a cat, and two rabbits that are my pride and joy and love to keep me busy.